The small business success platform
How to Use Paid Services of Loyverse POS
1.Adding payment method
Login to the back office, click on 'Billing' button on the Settings menu.
Click on 'Add payment method' button to add your card information.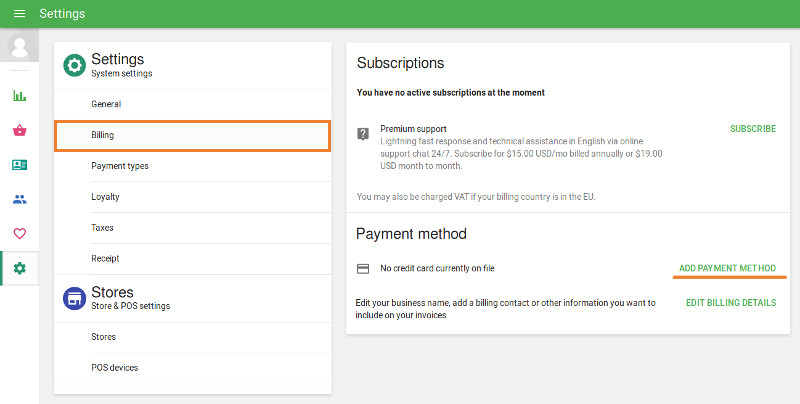 Fill in all fields and click on 'Save' button. All the data will be verified, and if there is something incorrect, a popup message will show you what to correct.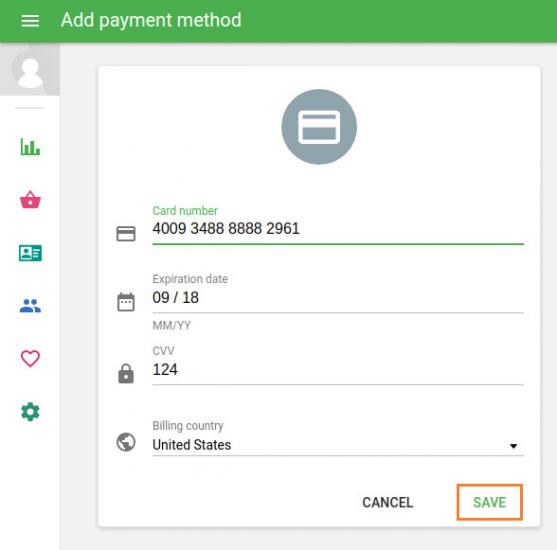 If all data is correct, your card will appear as a payment method.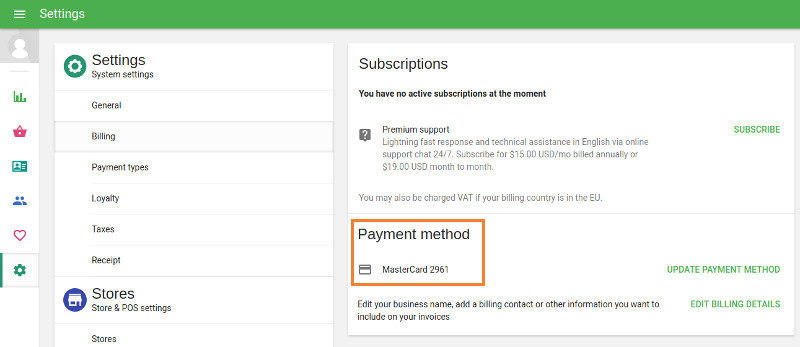 2.Subscription to employee management
When you add a new employee to the 'Employee list' section, the pop-up window will appear to inform you about the subscription conditions. Click on 'Subscribe' button to start a subscription.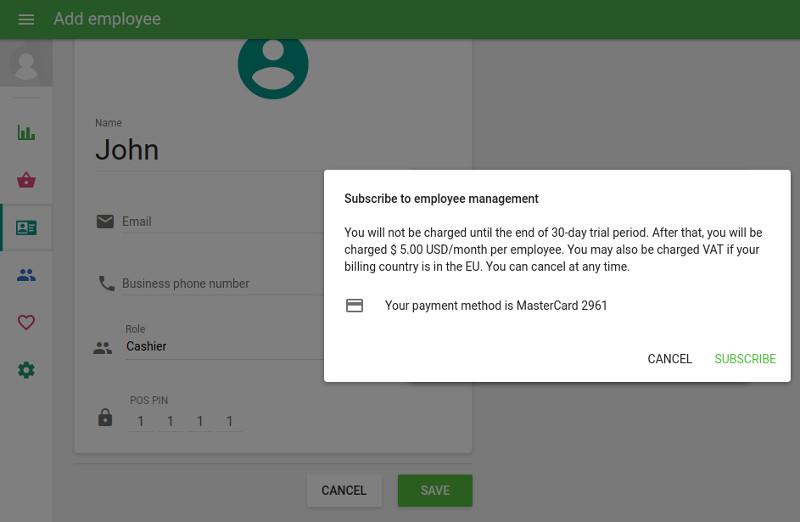 At the 'Billing' section in the 'Subscriptions' box, you can see information about your subscription for employee management.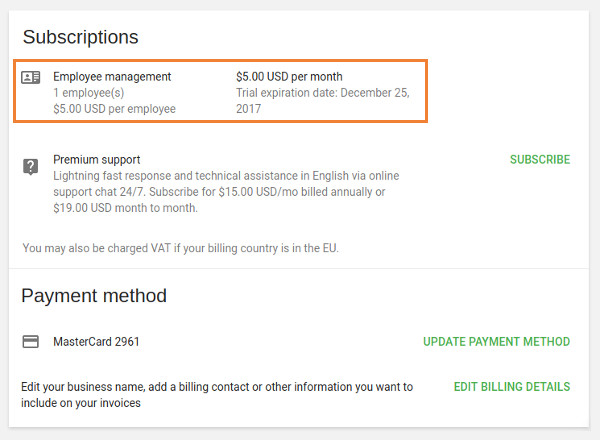 If you add an employee before entering payment method, click on 'Continue' button. You will be redirected to the card information form.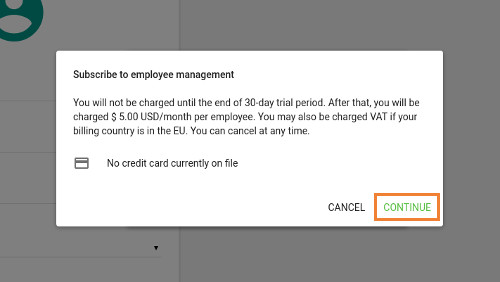 3.Subscription for premium support
Click on the 'Subscribe' button at the 'Premium support' line to start a subscription.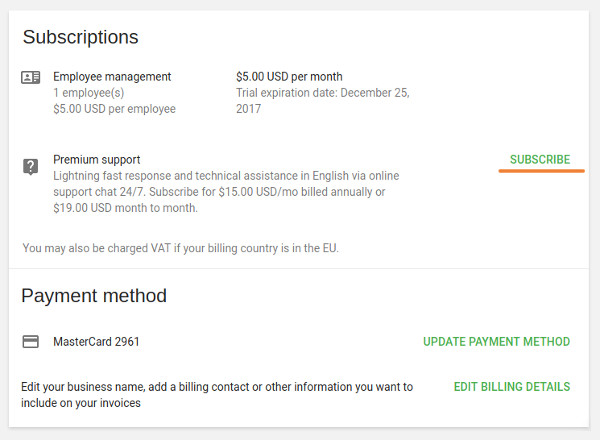 At the pop-up window choose the desired subscription plan.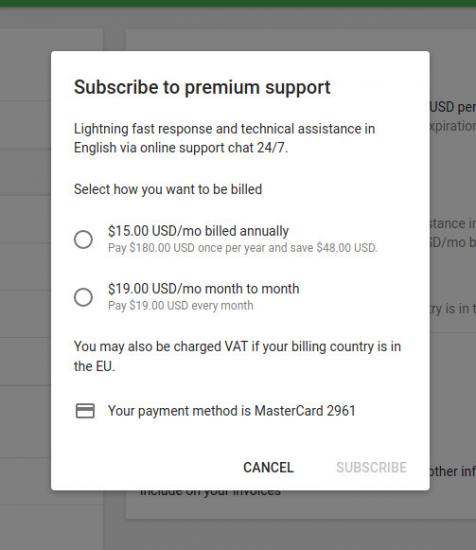 At the 'Subscription' box you will see information about your active subscription for premium support.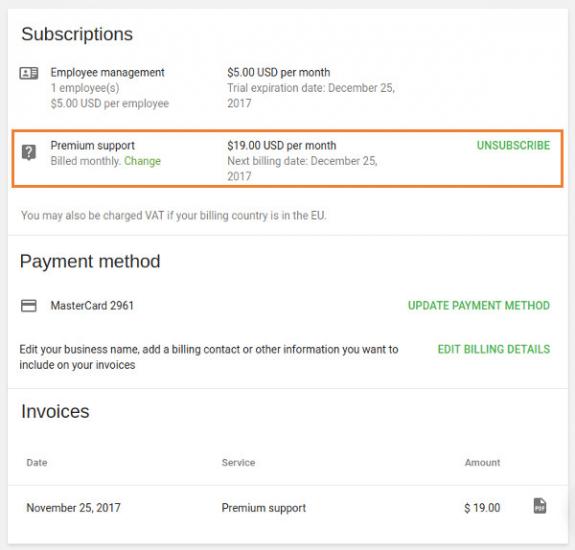 4. Payments for subscriptions
Now all payments for your subscribed plans would be automatically charged from your bank card connected to your 'Payment method'.
All your payment history, as well as warnings about failed payments, will be shown in the 'Invoices' box of the 'Billing' section.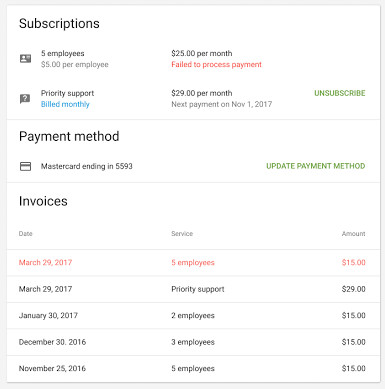 Note: There is a 30-day trial period for employee management. After that, you will be charged $5/month per employee. You may also be charged VAT if your billing country is in the EU. You can cancel your employee management subscription at any time by deleting extra employees at the 'Employee list' section. If you delete employee before ending of paid period, you cannot refund this money or transfer them to another employee.
See also: