Do you want to keep track of products with low stock directly from your back office? And even better - to receive an email notification that the stocks of a product are coming to an end? Loyverse POS gives you such opportunity. Also, activation and the setting up of this function will take no time at all. You should complete just five simple steps.
 
Go to the 'Item list' menu in the Back Office.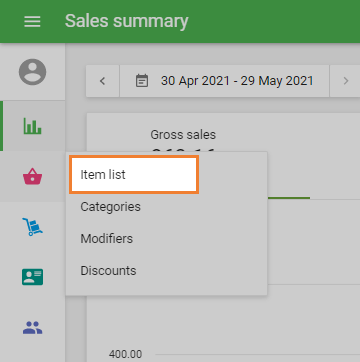 Open the necessary item to edit. Activate the option 'Track inventory', if it has not yet been activated. Under 'In stock', specify the item quantity that you have at the moment. In the field 'Low stock' enter the quantity at which you would like to be notified about the low stock.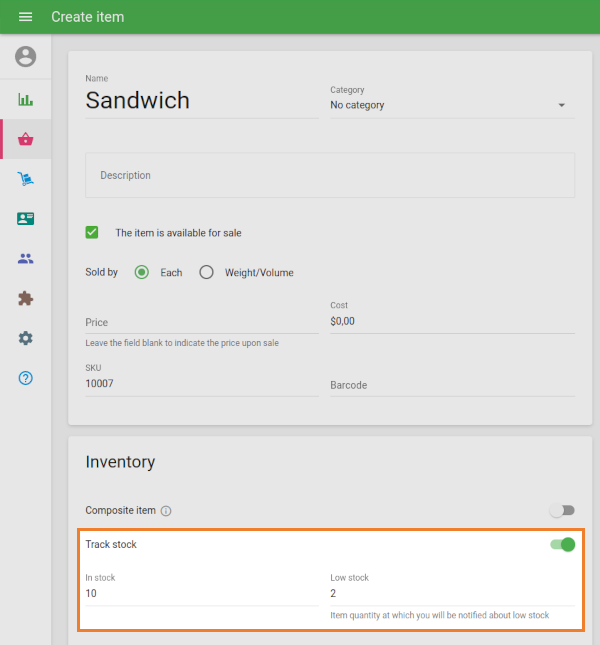 Note: A record for a composite product is not kept. But you can set this function for each of its components.
Go to the 'Features' section in Settings. The option "Low stock notifications" is activated by default. If you have disabled this before, activate it again. Save your changes.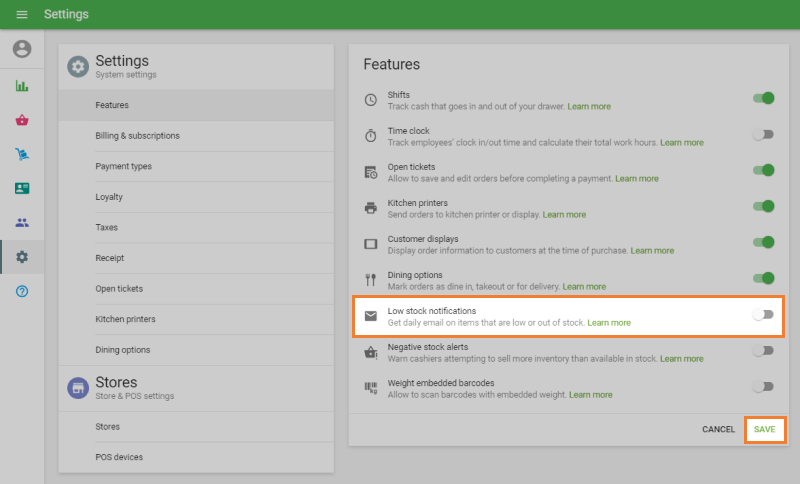 Note: Notification of low residue of an item or its complete absence will come to you by email at 10:00 in the time of zone that has been specified in Account Settings. If there are no items with low stock, no notification will be sent to you.
To view the current level of stock is possible without waiting till 10:00 go to "Item list" from the "Items" section. Here you will see the number of stock of each item, in the card of which you have selected the function "Track inventory". If any item stock is low or it is not available at all, then next to the residue you will see a proper notification.
Additionally, you can use the filter "Stock alert" in the top right corner of the screen. Just open it and select the option: "All items", "Low stock" or "Out of stock".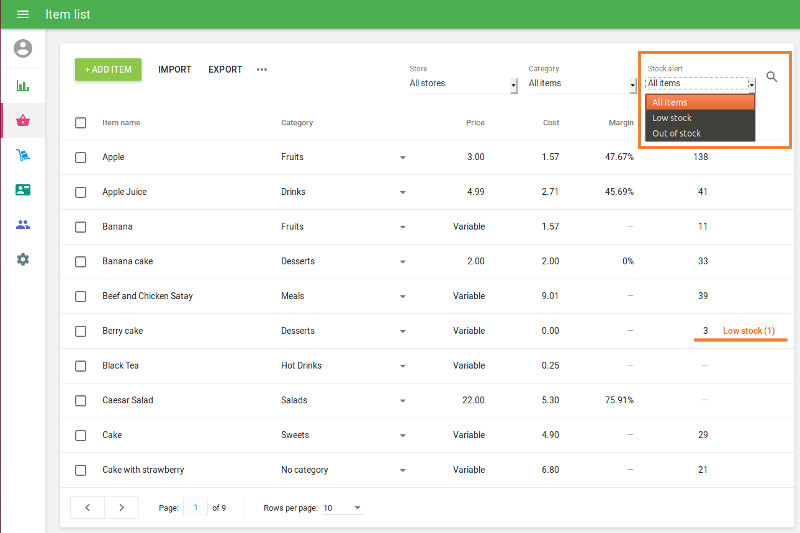 If you want to make batch changes in the inventory of your items you can do it through import/export option. First, export your items at the 'Item list' section. Open your CVS file for editing.
In the 'Track stock,' column of the item set the value of 'Y' if you want to track inventory or 'N' if you don't want. You can also set the number of items in stock in the 'In stock' field and low stock notification number in the 'Low stock' field.

After editing file import it back to the system.
See also: